GB7SJ Fusion Digital/Analogue FM
Repeater Summary Details for GB7SJ (Now linked to GB7YZ in Mold in North Wales)– News Flash! GB7PM has now joined the VW Fusion group connected to the GB7SJ Reflector.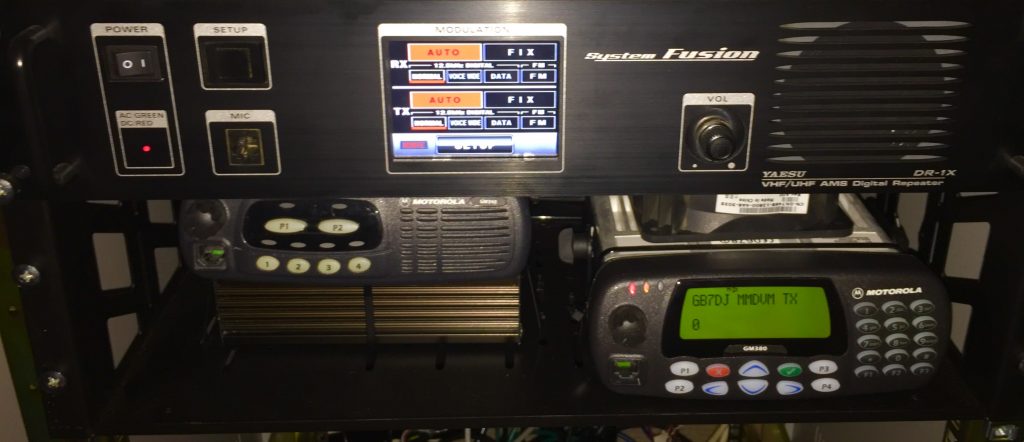 Keeper/NoV holder: Stuart Jackson [M0WTX]
Band: 70CM (RB07) Output frequency: 433.175MHz RX Frequency: 434.775MHz
Mode: YAESU DIGITAL FUSION/ANALOG REPEATER
Tone: 103.5Hz CTCSS
ETCC Region: North-West
Location/Whereabouts: Northwich
Date of NoV Issue: 19 May 2016
CURRENT STATUS: OPERATIONAL
Feel free to use the repeater as often as you like. Do please remember to use 103.5Hz tone decode and encode and WIDE deviation. Allow four or five seconds between overs, and when keying, please leave a pause before talking.
***********************************************************************
Repeater Summary Details for GB7YZ (Now linked to GB7SJ in Northwich)
Keeper/NoV holder: Stuart Jackson [M0WTX]
Band: 70CM (DVU38) Output frequency: 439.475MHz RX Frequency: 430.475MHz
Mode: MMDVM MULTIMODE Capability but used in Fusion VW mode 24/7
ETCC Region: North Wales
Location/Whereabouts: Rhosesmor
Date of NoV Issue: 14 October 2016
CURRENT STATUS: OPERATIONAL
***********************************************************************